What are cookies?
As is common practice with almost all professional websites, this website uses cookies, which are small files downloaded to your computer to improve your experience. This page describes what information they gather, how we use it, and why we sometimes need to store these cookies.
You are free to refuse our personal information request, but we might not be able to provide some of the services you want.
COOKIES WE USE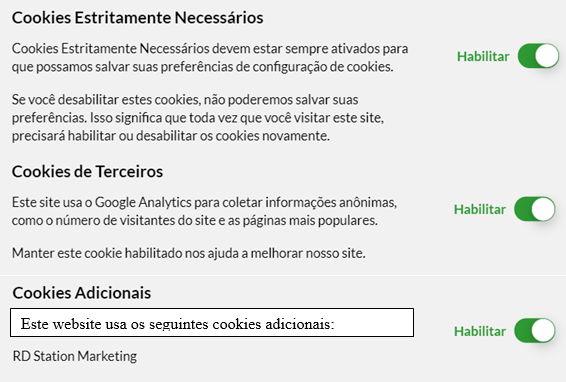 WHAT PERSONAL DATA WE COLLECT AND WHY
When visitors leave comments on the website, we collect the data shown in the comments form, in addition to the IP address and the visitor's browser data to help us detect spam.
An anonymized string of characters created from your email (also called hash) may be sent to Gravatar to check if you use the service. Gravatar's privacy policy is available here: https://automattic.com/privacy/. After your comment is approved, your profile picture becomes visible to the public with your comment.
If you upload images to the website, you should avoid uploading images with embedded location data (EXIF GPS) included. Visitors can download these images from the website and extract your location data from them.
When you leave a comment on the website, you may choose to save your name, email address, and website in cookies. This is for your convenience so that you do not have to fill in your details again when you leave another comment. These cookies will last for one year.
If you have an account and use this website, a temporary cookie will be created to determine if your browser accepts cookies. It contains no personal data and will be discarded when you close your browser.
When you access your account, we also set up several cookies to save your account information and your screen display choices. Login cookies are stored for two days, and screen options cookies are stored for a year. If you select "Remember Me", your login will persist for two weeks. If you log out of your account, the login cookies will be removed.
If you edit or publish an article, an additional cookie will be saved in your browser. This cookie includes no personal data and simply indicates the post ID of the article you just edited. It expires after one day.
EMBEDDED MEDIA FROM OTHER WEBSITES
Articles on this website may include embedded content, such as videos, images, articles etc. Embedded content from other websites behaves in the exact same way as if the visitor were visiting the other website, or you may be redirected to external websites through links.
It is important to bear in mind that these websites have their own policies and that Aliança Traduções is not responsible for the content described and data collected from the websites in question. The presence of links does not mean an endorsement from Aliança Traduções.
We do not share personal identification information publicly or with third parties, except when it is required by law or is strictly necessary to comply with the agreement.
We use anonymized data for statistical and research purposes, seeking the continuous improvement of what we offer and/or to map your preferences jointly with partner companies in order to send you news.
For users that register on our website (if any), we also store the personal information provided in your user profile. All users can see, edit, or delete their personal information at any time except they cannot change their username). Website administrators can also see and edit that information.
Whenever we must store data, we protect it to avoid losses and theft, as well as the unauthorized access, disclosure, copy, use, or modification. Under our policy, data may be stored for up to six months or, in specific cases, for as long as it is necessary for the requested service to be provided.
WHAT RIGHTS YOU HAVE OVER YOUR DATA
You may request information via privacidade@aliancatraducoes.com.br, and you may request access to your data, give or withdraw consents, and request we correct or delete your data. You may also exercise all rights provided for in the General Data Protection Law (LGPD).
We stress that even if you request that we delete your data from our databases we may be required to store certain pieces of data to comply with legal and regulatory obligations. However, at the end of the periods set by the legislation, we will delete them.
BE CAREFUL
It is important to consider that we are not responsible for actions in your account, such as sharing passwords or cases of unauthorized access to your personal device.
You must know that we do not exchange information with you through links or executable files. Thus, whenever necessary, please use the official channels.
AMENDMENTS
Aliança Traduções may review this Policy at any time, without notice. By using this website, you agree to be bound by the current version of this Policy.
APPLICABLE LAW
This Policy will be construed in accordance with the federal laws, regardless of an occasional conflict with state or foreign laws, and the courts of the State of São Paulo are hereby chosen to settle any disputes arising from this Policy.